Since splitting from footie-star Frank Lampard, 34-year-old Spaniard Elen Rivas has garnered a flattering headline or three, not least about her recent and super-sexy underwear shoot for Tesco's new Diamond Boutique lingerie range. With a TV documentary – on Aids in Africa – airing next month, and a leading role as a contestant on Marco Pierre White's new TV series Kitchen Burnout in the offing, we're about to see a whole lot more of the honorary WAG and mother-of-two. StyleJunkee caught up with Rivas to chat shoes, makeup and celebrity style icons…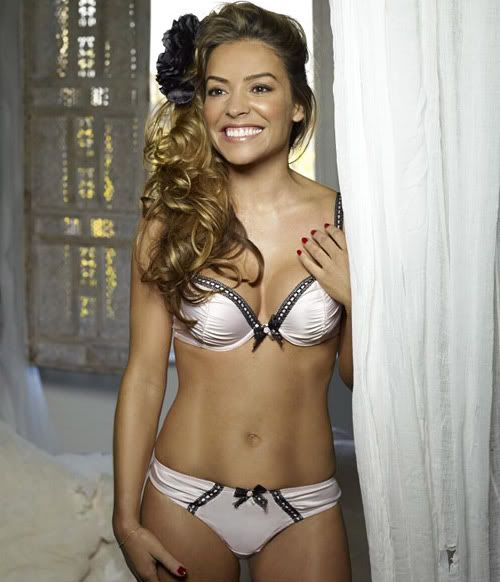 StyleJunkee: First things first, we must just ask you about your very healthy shoe collection. We read that you have roughly 500 pairs! (and we're so jealous). Is that right? Do you have a favourite pair?
Elen Rivas: 500 pairs! I'm afraid that's not true – that came from a journalist telling fibs. I do love shoes, but I can't pick a favourite…
StyleJunkee: How would you describe your style?
Elen Rivas: I'm a chameleon – I don't follow any particular trends. I wake up and put on clothes according to how I feel that day.
StyleJunkee: What three makeup items would you not leave the house without?
Elen Rivas: I don't wear make up very often. But for a special occasion I pop on a good mascara like Lancome, a long-lasting lipstick from Max Factor and a tinted moisturiser from Laura Mercier.
StyleJunkee: Which other celebrities do you most admire? (and why)
Elen Rivas: Sarah Jessica Parker, because she's very unique and free with her styling.
StyleJunkee: You looked stunning modelling the new Diamond Boutique lingerie range for Tesco. Are you doing anything similar in the future?
Elen Rivas: I have lots of exciting projects in the pipeline. I'm afraid I can't talk about them right now so you'll need to keep your eyes peeled!
StyleJunkee: You've just returned from Africa where you filmed a documentary on Aids with WAGs Amii Grove and Imogen Thomas. How did it go?
Elen Rivas: It was amazing and extremely humbling. It was initially really hard to get your head around the poor children suffering, but it was very eye opening and an amazing project to help on and be a part of.