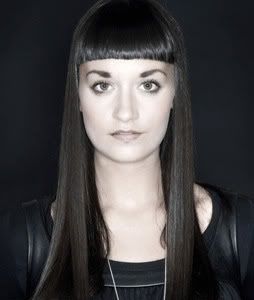 StyleJunkee was lucky enough to grab ten minutes with Britain's very own rising star of London Fashion Week… Hannah Marshall
SJ: Hannah, how does it feel to be internationally acclaimed and regarded as one of a small number of designers leading the way for British fashion?
HM: First and foremost I'm so happy to be doing something that I love and for it to be accepted and liked by the industry makes it all worth it. I am very proud to be British and to be a part of what is contributing to British fashion, and for spring/summer 2010 we gained some really key stockists across the globe including Harrods in London, 10 Corso Como in Korea, Luisa via Roma in Florence and again we are working with Opening Ceremony in NY, LA and Japan.
SJ: What are you wearing today?
HM: A men's oversized polo-neck jumper, leather leggings, python cowboy ankle boots, Hannah Martin jewellery, and I have my BlackBerry almost glued to my hand!
SJ: What are you inspired by?
HM: Power, armour, women, the human body, music, architecture, photography.
SJ: Which designers influence you?
HM: The strong, sculptural collections from Thierry Mugler and the uber-minimalist line from Jil Sander in the 90's.
SJ: What's been your best career highlight so far?
HM: So far there have been a few that include: most recently it is being offered an On-Schedule slot on the official catwalk schedule from the British Fashion Council. And, for my debut show in September, I had Erin O'Connor model for my show exclusively, which was amazing as she is the perfect Hannah Marshall woman.
SJ: Do you have any gems of fashion advice for our readers?
HM: Wear your clothes, don't let them wear you.
SJ: Pretty please can you give us a taster of what we can expect from your London Fashion Week (autumn/winter 2010) collection?
HM: The new collection concept is based around body modification and the work of Jean-Paul Goude.

SJ: So you're an Essex girl. Can you see yourself ever leaving the county?
HM: I love running my business in London but being based outside of London in the Essex countryside, so I have the best of both worlds!
Hannah Marshall's autumn/winter 2010/11 catwalk show is sponsored by Sure Crystal at London Fashion Week on 19th February.
With much thanks to Sure Crystal for organising this interview. Sure Crystal, the anti-white marks anti-perspirant deodorant, has partnered with the rising star of London Fashion Week, Hannah Marshall, to mark its best ever product reformulation and super-stylish makeover.